All Canadian Self-Storage North York by Byzantine Masti
October 2, 2018
The Guys at this place are very professional and worth the money Fahad the Driver was friendly and very informative about the situation and will definitely recommend them for any storage needs by Non Member
March 26, 2016
The service I received at All Canadian Self Storage was fantastic, the ladies were on the money, and courteous, clean trucks, and the price was what they quoted. Dynamite! Thank you! by Ranson
October 13, 2015
My name is Paster Ranson. I have to say the services I get at this location is one of the best. I've dealt with others, and I must say I appreciate the management and staff here. They've looked after me well.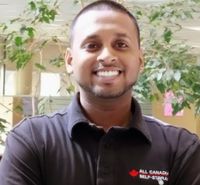 I used this portable service to help me between homes. I live in DT Toronto and I don't really know anyone to help me out. I called up All Canadian and Aron offered me a Portable Storage box based on my location. They got loaders to load the container which fit right on the boulevard. It was so easy and convenient. They picked up and kept it inside for me. In November they will deliver and do the same stress-free process again! I didn't know storage could be so easy!